Healthy food systems are the foundation for healthy lives, communities, economies and ecosystems. In order to build a future for Melbourne in which we can all thrive, we need a food system that is healthy, sustainable, resilient and fair.
A thriving local food economy is not only good for business, it's also good for people and planet. Growing, exchanging, eating and sharing local food connects local people to each other, to their health and wellbeing and the land, creating shared value financially, socially and environmentally. We believe that connected networks of thriving local food systems not only provides a solid foundation for Melbourne's future, but also for the future of all Australians.
A LAUNCHPAD FOR LOCAL FOOD PROJECTS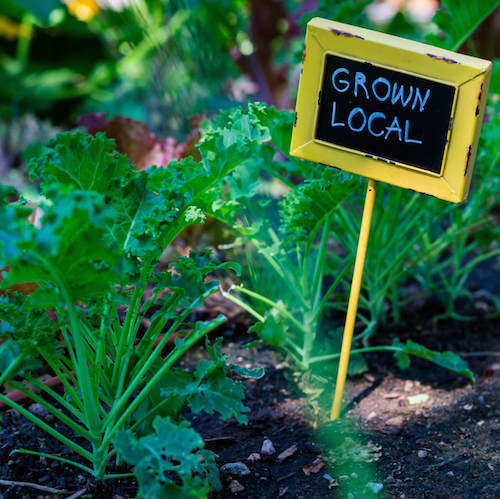 Doing Something Good (DSG) are working with City of Melbourne, the Food Alliance and Open Food Network to support the development of individuals, communities and organisations working toward a thriving local food economy for Melbourne and it's surrounds. Over the last year DSG have been running a series of events as a program for those interested in making a better food future. We've designed this Local Food Launchpad program as a platform for building  shared understanding of key issues, challenges and opportunities, and to grow our collective capability to work together and make change.
Following on from the EcoCity Food Forum in 2013, the Going Local Forum in February, and the Big Ideas Jam in June, we are very pleased to announce that we will be running a series of Concept Development Labs in February and March 2015 to develop concepts for campaigns, products, services, events, programs and other initiatives that will contribute to a thriving local food economy for Melbourne.
JOIN US FOR THE FIRST CONCEPT DEVELOPMENT LAB TUESDAY 24 FEBRUARY.

Do you have an idea that you believe will contribute to:
increasing food production within the City of Melbourne, or

increasing the opportunities for city residents and visitors to purchase local and regionally-produced food?
If so, we invite you to join us for this series of Concept Development Labs starting on Tuesday 24 February.
We invite growers, entrepreneurs, not-for-profit organisations, food retailers, social enterprises, distributors, design and technology professionals, schools, cafés, restaurants and catering services, and other passionate and innovative community members that have a big idea for a better food system or would like to help make somebody else's idea happen.
FIVE LABS OVER FIVE WEEKS PLUS ONE BIG NIGHT TO PITCH YOUR BIG IDEA
We'll be running a series of six sessions over six consecutive weeks, with five Concept Development Labs and a Pitch Night in week six. The program has been designed to get you and your idea to a stage where you have developed a solid project plan and are ready to:
launch your project
go for funding for your project
build a team or find partners for your project, or
scale up your project.
Over the first five weeks we will work with you to complete a Business Model Canvas, grow your understanding of key issues, challenges and opportunities, and learn and apply the principles of design thinking, Lean Startup, strategic communications and community building to shape good ideas. You will also be provided with tools, templates and information resources to help you develop your local food concept, or any other project you may be working on now or in the future.
*please note that Pitch Night has been rescheduled for Monday 13 April.
SETTING YOU UP FOR SUCCESS
We want to see you succeed. So in addition to working with you to develop your project through the series of Concept Development Labs, we're also currently working with Local Food Launchpad partners to bring together the resources that help you take that next step. Over the next few weeks, we'll be announcing a unique opportunity for participants in the Local Food Launchpad program* which will include seed funding, access to some of Melbourne's top coworking spaces and coaching sessions for up to five project teams. Teams will be selected base on their Business Model Canvas and a two minute pitch to be delivered at the final Concept Development Lab on Tuesday 31 March 2015. Want to know the details as soon as they're released? Sign up for updates at goodfoodprojects.com.au (full website coming soon – see below).
*to be eligible, one of your project team will need to participate in at least four of the first five Concept Development Labs in addition to presenting your project in the final Lab pitch session.
SHARE YOUR GOOD FOOD PROJECT WITH THE WORLD
Later this month we'll be launching a new website at goodfoodprojects.com.au We want to show the world your project that's contributing to a healthy, sustainable, resilient and fair food system. Stay tuned to find out more.
In the meantime, if you'd like to stay up to date with announcements regarding the Local Food Launchpad program, make sure you subscribe for email updates at goodfoodprojects.com.au, follow @goodfoodprojects on Twitter and join over 100 people on the growing Sustainable, Resilient and Fair Food Network on Yammer. To get on the Yammer network please email Jill Post at City of Melbourne, jill.post@melbourne.vic.gov.au with your full name, and "Request to join Yammer Food Network" in the subject line.
VENUE
For Concept Development Labs
Deakin University
Level 3
550 Bourke St
Melbourne
For Pitch Night
Inspire9
Level 1
41 Stewart St
Richmond (adjacent to Richmond Train Station)
*Registration cost for Labs 1-5 includes light snacks. Registration for Pitch Night also includes wine and beer. 
The Local Food Launchpad is brought to you by Doing Something Good in partnership with City of Melbourne, Food Alliance and the Open Food Network. If you're interested in supporting the Local Food Launchpad as a volunteer or Launchpad partner, please email goodfoodprojects@doingsomethinggood.com.au or call David Hood on 0413 124 427.
Thanks to Melina Chan at Inspire9, Jay Chubb at Nest Coworking, and Nick Jaffe at Electron Workshop for providing work space and mentorship for LFLP project teams.
The Local Food Launchpad Concept Development Labs are proudly part of the 2015 Sustainable Living Festival. Check out what's coming to your city or town at www.slfestival.org